Trojan Horse inquiry schools' parents to meet Ofsted head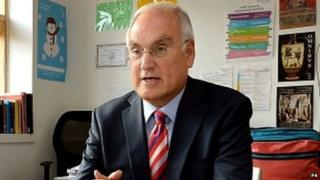 The head of Ofsted has agreed to meet parents with pupils at schools at the centre of the Trojan Horse investigations.
The watchdog was called in after allegations of a hardline Muslim takeover of Birmingham schools and last week delivered reports on 21 of them.
Its head Sir Michael Wilshaw, said "a culture of fear and intimidation has taken grip" in some schools.
But some parents have accused Ofsted of looking for extremism.
The inspectors' report said head teachers had been "marginalised or forced out of their jobs", and there was evidence of an "organised campaign to target certain schools".
Sir Michael described some of the findings as "deeply worrying and in some ways quite shocking".
MPs' meeting
But parents who dispute the findings held a small demonstration in Birmingham city centre earlier, attended by around 20 people.
Ofsted said that after meeting Birmingham MPs he agreed to "address the concerns of some of their constituents, including the suggestion of meeting with a small representative group of parents.
"He made it clear that both he and his team are willing to meet with parents and that Ofsted has a key role to play in helping the schools to improve," it said.
No date has been set for the meeting yet.
Two of five schools rated inadequate by Ofsted, Birmingham academies Park View and Nansen Primary, are to lose their government funding.
Oldknow Academy and Golden Hillock School, also rated inadequate, were warned they could lose funding unless concerns were addressed.
Birmingham City Council said it would work with Saltley School, the only local authority school placed in special measures, and the Department for Education to install a temporary governing board.