Heartlands Hospital: Salmonella outbreak 'may have begun in community'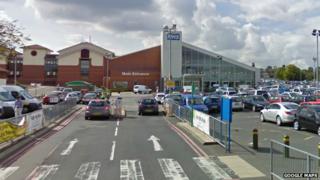 A hospital salmonella outbreak which has led to 19 patients and four staff falling ill "may have started in the community", the trust has said.
Heartlands Hospital in Bordesley Green, Birmingham, has closed eight wards while it deals with the infection.
The Heart of England NHS Trust, which runs the hospital, said it was working with Environmental Health to determine the cause of the outbreak.
It said: "Sources from the community are a possibility."
'Potential community outbreak'
The trust said "stringent" tests on food and water within the hospital have not revealed any sign of the bacteria.
It called on anybody who had any symptoms of food poisoning, such as diarrhoea or vomiting, to stay away from the hospital until at least 48 hours after the symptoms disappear.
In a statement, the trust said: "What we are asking is that people remain vigilant.
"Many cases in the community go unreported as people often recover quickly."
Previously, the hospital had expressed concern the infection could spread into the surrounding community.
Medical director Andrew Catto said experts were concerned the infection was "the start of a potential community outbreak".
"We are concerned by the spread and number of patients who have tested positive, as this is unusual," he added.