Chooi Cheung jailed for stabbing lover in face and neck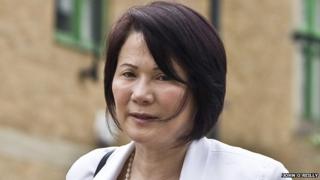 A businesswoman who tried to kill her lover by stabbing her in the neck and face has been jailed for life.
Chooi Cheung, 53, from Birmingham, attacked Leng Hie Tiong, 38, at her house in Milton Keynes in December.
Luton Crown Court heard Cheung had tried to kill Ms Tiong because she feared she would return to Malaysia with £38,000 she had lent her.
She was found guilty of attempted murder and sentenced to a minimum of 10 years in prison.
The court was told Cheung started a sexual relationship with Ms Tiong in 2007, despite being married and having two children.
The jury heard that Cheung, from Selly Wick Road, Selly Park in Birmingham, leant her lover more than £38,000 over six years while she worked at her restaurant in Dudley.
'I was screaming'
In December last year, Ms Tiong was working as a chef for another employer at the Zen Garden in Milton Keynes.
The court was told Cheung visited her at her home on the Fishermead Estate in Milton Keynes on 11 December and stabbed her with a knife as they lay in bed.
Aided by a Mandarin interpreter, Ms Tiong told the court: "She was using a knife, pressing it against my neck.
"At first I thought it was her fingernails. There was blood on my body and I screamed. Then the knife was in my mouth. I was screaming."
In sentencing, judge Richard Foster told Cheung: "I am satisfied you were furious with her for using some of that money to help her family in Malaysia and you thought she was intent on moving there and abandoning you."