'Nightmare' wedding couple win Thomas Cook pay-out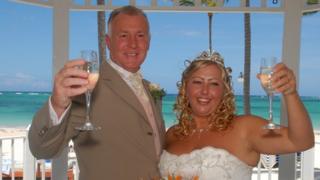 A Birmingham couple who contracted gastro illness during a "luxury wedding" in the Dominican Republic have won a pay-out of nearly £50,000 from their travel company.
Terry and Keeley Ford, from Kings Heath, travelled to the Melia Caribe Tropical Resort in Punta Cana from 27 August to 10 September 2009.
However, they and five guests fell ill before the wedding.
Tour operator Thomas Cook confirmed they had reached "an agreement".
'Absolute nightmare'
Mrs Ford said she had been concerned about some of the food they were served at the resort during their trip.
"I remember eating a burger and the middle of it was pink and did not seem to be cooked properly, so I sent it back to the kitchen," she said.
"Over the following two days we all started to feel ill, with each of us unable to leave our rooms for long because of sickness and diarrhoea. It was an absolute nightmare.
"Terry's son, Jonathan, fell ill just two days after we arrived which made it hard for us to all be together as a family."
Mrs Ford's two children, who were 11 and 15 at the time, and her parents also fell ill.
Clare Pearson, from legal firm Irwin Mitchell, represented the family.
She said: "This trip, which was meant to be a wedding celebration as well as a holiday, was ruined because of the illness the wedding party suffered and unfortunately nothing can turn back the clock to change that."
Thomas Cook said the health and safety of customers was of "paramount importance".
A representative said: "We extend our apologies to Mr and Mrs Ford following their illness.
"We would like to assure customers that incidents of this type are rare."
He added the settlement would be shared between the couple and other family members who fell ill.