Heartlands Hospital: Salmonella outbreak closes eight wards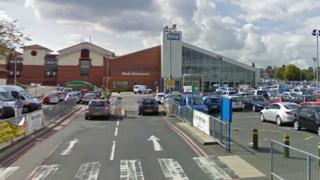 A salmonella outbreak at a Birmingham hospital has led to 19 patients and four staff falling ill.
Heartlands Hospital, Bordesley Green, has closed eight wards while it deals with the infection.
The Heart of England NHS Trust, which runs the hospital, said experts were concerned the outbreak could spread to the wider community.
Medical director Andrew Catto said the outbreak could be "very serious".
'Every precaution'
He said the trust had worked with external microbiological experts who had expressed concern the infection was "the start of a potential community outbreak".
"We are concerned by the spread and number of patients who have tested positive, as this is unusual," said Dr Catto.
"Any infection in someone who is already ill can be very serious and we are taking every precaution possible to protect our patients and staff."
He said the hospital was working with environmental health experts and had carried out "stringent" testing on food and water, but no sign of the bacteria had been found.
The trust is advising visitors not to come into hospital if they have suffered diarrhoea or vomiting in the previous 48 hours.
In a statement it said: "Deep cleaning of all areas will continue until patients are no longer testing positive for the bacteria."