Birmingham boy, 6, escapes war-torn Syria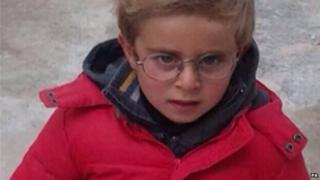 The father of a six-year-old Birmingham boy who has spent three years trapped in war-torn Syria has said it is "great news" his son has managed to escape into Jordan.
Muadh Zain was born and grew up in Birmingham but had been trapped, along with his mother Doha, inside the rebel stronghold city of Daraa.
His father, Wael Zain, said he had not seen his son since January 2011.
He said he hoped Muadh would now return to the UK.
'The final hurdle'
Muadh went to live with his Syrian mother in 2011 after his parents split up.
Although he and his mother lived close to the Jordanian border, they were unable to leave the country as it was closed.
However, Mr Zain, who lives in London, said: "I heard he had fled into Jordan on Friday night.
"It's great news. The final hurdle is getting a Visa so he and his mother can come back to the UK but that shouldn't be a problem."
Mr Zain said Muadh had been "absolutely traumatised" by his experiences in Syria, which included seeing his uncle killed by shrapnel.
More than 2,000 people signed an online petition calling on Foreign Secretary William Hague to bring Muadh and his mother home.
The Foreign Office said it was unable to go into detail "at this stage" about how Muadh and his mother had left Syria.
It added it remained "in touch" with Mr Zein and would continue to provide consular assistance as necessary.
It said: "We continue to advise all British nationals in Syria to leave by whatever means."