Trojan Horse: Pupils 'stigmatised' by Islamic extremism claims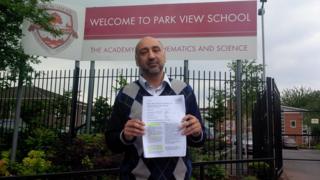 As Ofsted criticises five Birmingham schools for not doing enough to protect children from extremist ideas, parents of pupils at the schools in the "Trojan Horse" case say they fear their future prospects could be damaged by the allegations.
"There are genuine concerns that children will go to apply to universities or for jobs and when it is shown they attended Park View School, they will be seen as some Islamic extremist, even though nothing has been proved," says Arshad Malik.
His 14-year-old son Imran's school, Park View, is one of the six schools put into special measures after Ofsted's inspection of 21 schools in the city.
Mr Malik says he believes students' and teachers' reputations are being "tarnished".
"Those kind of negative stereotypes can build up," he adds.
"I think parents will think twice to send their children here even if they believe the staff and teachers, because of the stigma.
"We need the clear facts to come out and if the school is cleared, they should change the academy name and move on."
Ofsted said in its report Park View Academy "had not effectively raised students' awareness of the risks of extremism".
It is run by the Park View Educational Trust, along with other academies, Golden Hillock and Nansen Primary, which are all to have their funding agreements terminated.
Another parent, Farooq Ahmed, whose daughter attends Golden Hillock, says he is now "worried" about any cuts to funding.
"The most important thing for me is she gets better results and can get better jobs and I would worry if the trust [Park View Educational Trust] had to go," he said.
In the school's inspection report, Ofsted said: "Too little is done to keep students safe from the risks associated with extremist views."
'Children victimised'
Meanwhile, Anoor Khan said he was considering transferring his 12-year-old son from Golden Hillock to another school.
"This is is his first year but I'm thinking of taking him elsewhere," Mr Khan said.
"I want him to be able to get grades... I don't want his education to be affected by politics at all."
Oldknow Academy, which was also placed in special measures, has also been warned it could lose funding unless concerns are addressed.
Shabina Bano, whose two daughters attend Oldknow, said that would have a "serious negative affect" on their future learning.
"We need to know, on what basis can they take funding away? As parents we see no proof that the school is failing," she said.
"Of course children are stigmatised by these accusations and the nature of the playground is that these children could become victimised when they leave to go to secondary school.
"You're going to get children saying, 'are you part of Al Qaeda, are you from a Jihadi school?'. It's unfair on them."