Children 'washed in toilets' at Birmingham care home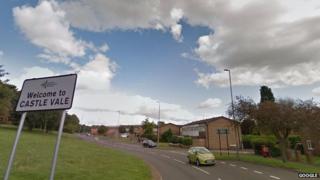 Ex-residents of a children's home have described being beaten, made to wash in toilet water and sleep on floors.
Up to eight people reported cruelty at St Athan Croft in Castle Vale, Birmingham, dating back to the 1970s and 80s, the BBC understands.
In February 2014 police began investigating claims against former live-in house parents Patricia and James Connolly.
However, officers could not take action because the couple are dead.
One former resident said she was one of about 16 children living in three rooms at the home.
The woman, who was at St Athan Croft in the mid-70s and stayed until she was aged 13, told the BBC children were regularly beaten, hit with sticks and thrown in cold water in the early hours of the morning as punishments.
But she said Mrs Connolly would not let youngsters sleep in the beds because she did not want the sheets getting messy.
'Make you pay'
Children were made to wash in toilets and only allowed to use the showers when the family doctor visited the home once a year, she said.
On one occasion, when she was aged seven, she said she was beaten by Mrs Connolly after a concerned teacher noticed a scratch on the youngster at school, leading to a visit to the home.
"It was the early hours of the morning and she [Mrs Connolly] dragged me into the bathroom and she was slapping and punching me," said the former resident.
"She said 'how dare you say what I have done. I will make you pay if you ever say anything again'."
The former resident also said she was thrown in the bath and her head was dunked in the water.
Children would stay at a cottage in Wales during the six-week school summer holiday where the cleaning ritual would see them stripped down in front of each other, stood in a line and blasted with a hose, she said.
It was also claimed the children were made to go to the toilet in a field.
Slept in van
Meanwhile, a woman whose husband attended the home said he had also suffered physical abuse.
She said he gained comfort by sleeping in their car at night, a throwback to when he used to sleep in Mr and Mrs Connolly's van because it was more comfortable than sleeping on the floor.
St Athan Croft opened in 1967 and was replaced in 2004 by Viscount House. This later closed as part of Birmingham City Council cost cutting.
West Midlands Police confirmed a number of residents had made similar allegations about mistreatment. No arrests have been made in connection with the investigation, it said.
There was no suggestion the mistreatment allegations relate to anyone else connected to the premises.
"No charges are forthcoming," the force said in a statement.
A Birmingham City Council spokesman confirmed St Athan Croft was council-run. He said they had no record of any complaints but said they took allegations of that nature seriously.