Boy arrested after 'needle jabs' at Moreton Community School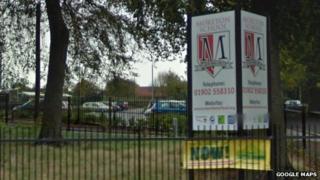 An 11-year-old boy has been arrested after parents complained children had been jabbed with a diabetes finger-prick pen at school.
Police said they had identified at least 20 children they believed had been jabbed at Moreton Community School in Wolverhampton.
Public health officials have been told and pupils have been advised to have precautionary hepatitis injections.
The child was arrested in Low Hill and bailed until July.
'Gravity required'
Head teacher Carl Williams said: "We take the health, wellbeing and safety of all our students extremely seriously and we have worked closely with the health experts from Public Health England and the local NHS to advise on the best course of action for the students affected.
"We would like to assure all parents and guardians that we are treating this incident with the gravity required."
The BBC understands the diabetes finger-prick pen belonged to a parent.
'Wellbeing of students'
Low Hill neighbourhood police co-ordinator Steve Perry confirmed they received three reports on Tuesday from parents saying children at the Old Fallings Lane school had been jabbed with the pen.
"It has a needle 'nib' just 3mm in length so none of the children are seriously hurt and public health officials have advised that the chance of infection is negligible," he said.
Letters have been sent out to parents of the year seven pupils affected, telling them what they need to do, as well as parents of other pupils to keep them informed.
Dr David Kirrage consultant at the West Midlands West Health Protection Team said: "We have been working closely with the school to advise the best course of action, to ensure the continued health and wellbeing of students involved in the incident.
"We have been liaising with NHS colleagues including the A&E department at New Cross Hospital. We are also contacting local GPs as the students receiving an initial vaccine from A&E will need a couple of follow-up vaccinations from their own family doctor, one and two months after the incident."