Collapsed Kings Norton house was 'being renovated'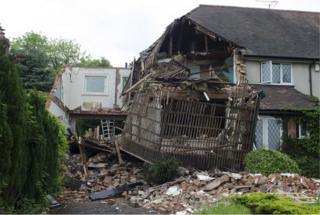 Builders had been working on a house in a Birmingham suburb which collapsed, residents have said.
A "large portion" of the detached property in Beaks Hill Road, Kings Norton, fell down at 16:08 BST on Monday.
Neighbours said the house was recently sold and renovation work had started several weeks ago.
The Health and Safety Executive (HSE) said it was working to establish the cause of the collapse.
'Like a drill'
Claire Simpson, who lives in neighbouring Rednal Road, said she had walked past the house on Sunday and seen a team of builders working on it.
"I saw a group at the back of the house," she said.
"They appeared to be working on the house but they weren't knocking holes in walls or anything like that as far as I could see."
Neighbour Riaz Farooq said he had been sat inside with his family on Monday afternoon when he heard a loud noise.
"It was very loud, but not like a bang, it was longer than that," he said.
"Like somebody was starting a lawnmower or a drill.
"After a while we realised something was happening.
"It's very sad that a nice house like that has been damaged so badly."
The owner of the house declined to comment or to give their name when approached.
West Midlands Police said no-one was hurt and no criminal offences had been identified.
The HSE confirmed it was aware of the case and said it was investigating.