Sacked heart surgeon: More data 'irregularities' found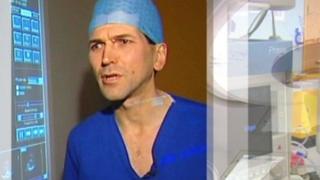 More "irregularities" have been found in a sacked Birmingham heart surgeon's medical data, the BBC can reveal.
Ian Wilson was dismissed amid suggestions he was under-reporting the time patients spent on a heart-lung bypass machine.
Now, in a further apparent abnormality, records suggest four and not 81 patients were treated with intravenous glycerol trinitrate (GTN).
Mr Wilson's legal team said his performance had been exemplary.
Fifteen of Ian Wilson's patients at Queen Elizabeth Hospital died following surgery over a period of 14 months.
The Cardiothoracic Society has now removed all of Mr Wilson's operating statistics from its website pending further investigations.
'Temporarily removed'
GTN is used to treat very sick patients with unstable angina.
Inaccurate data could have reduced Mr Wilson's death rate statistics stopping warning levels being triggered.
University Hospitals Birmingham said it would be a breach of its medicines management policy not to record GTN if it had been given.
"There are ongoing investigations in other data fields," it said.
The BBC understands one of the data fields being looked at is patients with hypertension or high blood pressure.
Cardiothoracic Society president Graham Cooper confirmed the data had been removed from the website and said: "If these are inaccurate they may impact the risk adjustment and therefore the published outcomes."
'Considerably over-treated'
A pre-inquest review earlier heard the deaths of three patients would be looked at together because there were similar issues.
These related to the amount of time patients waited for surgery, the fact more surgery was done than expected and delays giving a drug which used to freeze the heart.
Lawyer Richard Follis, acting for 72-year-old Peter Brookes, one of the patients who died, said: "There was a significant delay in coming to surgery.
"Once he was on the operating table, he was considerably over-treated."
A lawyer representing Mr Wilson said data did not identify the surgeon as having a higher than expected death rate. He said his previous performance had been exemplary.
The coroner, Louise Hunt, said she had referred the case to the police but they would not be taking any action.
Mr Wilson, a senior member of the Cardiothoracic Society, is currently re-skilling with a view to returning to work at New Cross Hospital in Wolverhampton.
The surgeon is understood to be taking University Hospital Birmingham NHS Foundation Trust to an employment tribunal later this year.
In a letter last month to the families of 15 patients who died, University Hospital Birmingham's medical director David Rosser said: "We have identified 77 patients who are labelled on the database as receiving the treatment when, according to our prescribing system, they did not."