Birmingham's Sky Ride off this year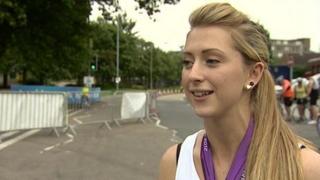 A cycling event on traffic-free streets in Birmingham will not be held this year following "difficulties in securing a date", the council said.
The authority said it also had problems in securing a suitable route for Sky Ride, which has previously attracted thousands of people.
It added it was working with British Cycling to establish a new route and date for the 2015 event.
The cycling governing body said it was delivering other rides in the area.
Trained leader
It also said it was not able to go ahead with the Sky Ride Big Bike Event in the city "due to difficulties securing a date and a suitable route".
In September last year the 10.8km Sky Ride Birmingham took place between Millennium Point and Cannon Hill Park.
British Cycling said it was working with the council to deliver so-called Local rides with a trained leader, aimed at those who want to get into cycling, often for fewer than 10 people.
There were similar events for women only, called Breeze rides, it added.
The council said it had "regrettably had to withdraw" from the main 2014 Birmingham event.
A spokesman for the Birmingham authority said: "Our partnership with British Cycling is particularly important as cycling is one of our identified priority sports."
The nearest big traffic-free Sky Ride this year would be in Coventry on 21 September, the event's website said.
British Cycling said the council, Sky and itself pay for and organise events.