Trojan Horse letter 'used to target Muslim schools', axed governor claims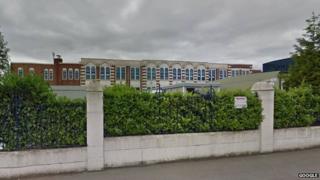 The axed governor of a failing school has accused Birmingham City Council of using the "Trojan Horse" scandal to target Muslim schools.
Waseem Yaqub said the investigation into a letter outlining an alleged Islamist takeover plot of city schools was "a McCarthy-style witch-hunt".
Mr Yaqub, former chair of governors at Bordesley Green's Al-Hijrah School, said the authority was "anti-Muslim".
The council said Ofsted inspectors had found "serious failings" at Al-Hijrah.
Mr Yaqub said he would not allow the new governors into the school if they tried to enter on Monday, claiming that there was still confusion over who was responsible for running it.
He also called for a delay in any intervention until after the GCSEs were completed, so that pupils would not have their exams disrupted.
'Muslims as scapegoats'
Al-Hijrah - an Islamic school which was placed in special measures in 2013 - is not one of 25 schools being investigated as part of the Trojan Horse allegations.
The so-called Trojan Horse letter, which the council said was sent anonymously, contains details of an alleged plot to make schools adopt policies consistent with hard-line Islamic principles.
Mr Yaqub, who said he believed the letter was fake, said council officers had used it "to turn on us and use Muslims as scapegoats".
He said "repeated Ofsted inspections" had been used to "destabilise" the Muslim faith school and bring it under council control.
A Birmingham City Council spokesperson said the Department for Education had approved the council's application to appoint temporary governors and disband the previous executive board.
The school had resisted moves to replace its governors on Thursday, but a second attempt will be made on Monday, it said.
A council spokesperson said a series of inspections by Ofsted "showed a serious decline at Al-Hijrah school that requires urgent improvement".
It said there were "continued failings relating to the school's governance, financial stability and its improvement plan".
Labour MP for Perry Barr, Khalid Mahmood, a critic of the way the school has been run, defended the city council.
He said it was "perfectly within its legal rights" to carry out the investigation and he did not know "where this (former) governor is getting these notions from".
This article was amended on 28 May when it became clear that allegations the letter was faked were not made against the city council.