Birmingham City Council leadership challenge to Bore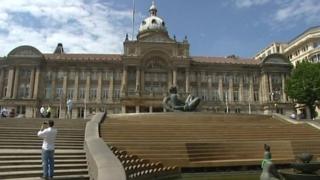 The Labour head of Birmingham City Council is facing a leadership challenge.
Councillor John Clancy said he wanted to take control of the Labour group and the authority because it was time for fresh ideas.
The authority is currently led by Sir Albert Bore, who said he would not comment on the challenge.
A vote will take place 31 May at the Labour group's AGM, along with a vote for the deputy leadership.
'Hand on baton'
Mr Clancy has produced a list of ten promises setting out how he would run the council.
They include a pledge to build 4,000 houses a year, to introduce free school meals and to cut the amount the council spends on IT and customer services.
He has also promised to make transport more affordable and look at creating a Birmingham Oyster card, similar to the travel cards used in London.
Mr Clancy said it was time for "the baton to be handed on" and that he would introduce a "yes, we will" approach to politics.
At the same time Councillor Barry Henley announced he would stand for the deputy leadership, against Councillor Ian Ward.
Mr Clancy was defeated in a previous leadership challenge in May 2011.
Sir Albert Bore has been leader of the Labour group on Birmingham City Council for 15 years.
He confirmed he would not be standing aside, but said he would not comment because the vote was an internal Labour party matter.