Car-sharing scheme car2go to withdraw from the UK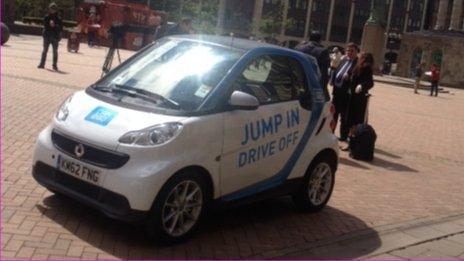 A car sharing scheme which operated in London and Birmingham has announced it is ceasing its UK operation.
Members of the car2go scheme were able to rent Smart cars left in parking spaces in the two cities.
But the company stopped operating in London last month and revealed on Twitter it would withdraw completely from the UK by the end of this month.
"The unique challenges we encountered were more significant than expected," it said in a statement.
"We've listened closely to customer feedback and, taking the UK's strong culture and tradition of private vehicle ownership into account, we have decided to withdraw from the UK marketplace."
Set up by Daimler and Europcar, Car2go launched in Birmingham in 2013 and had operated in three London boroughs since December 2012.
Members were charged 35p per minute to rent one of the Smart cars, which could be located using the company's website or a smartphone app.
The company said it would reimburse people who were already registered, with a £14.99 one-off payment, for the scheme in Birmingham.
It said: "As the world's largest free-floating car sharing provider, we will continue to observe the UK market for cultural changes towards the free-floating model.
"Car2go will continue to be a worldwide success story as we operate in a total of 25 cities around the world with more than 700,000 customers."
Birmingham City Council spokesperson said the company's decision to leave was "regrettable".
"We are committed to continuing to look for more innovative modes of transport to introduce to improve access across the city," it added.
Related Internet Links
The BBC is not responsible for the content of external sites.