Michael Spalding canal death: Two people charged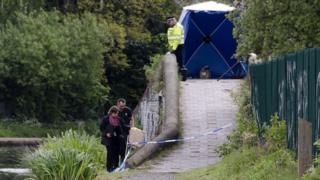 Two people have been charged with murder after a body was found in a Birmingham canal.
The body of Michael Spalding, 39, known as Spud, from Ladywood, was discovered by men working on the canal near Icknield Port Road on 12 May.
Lorenzo Joshua Simon, 33, and Michelle Bird, 34, both of Oxford Road, Smethwick, appeared at Birmingham Magistrates' Court.
They were remanded in custody to appear at Birmingham Crown Court on 27 May.