Baby dies after eight-month wait for heart transplant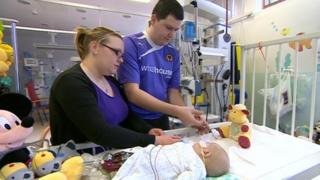 A baby boy who had been waiting almost eight months for a heart transplant has died.
As UK rules prevent children under two months from being organ donors, Ryan Brookhouse from Wolverhampton was waiting for a heart from abroad.
He was born with an enlarged heart and was undergoing treatment at a specialist unit at the Freeman Hospital in Newcastle-upon-Tyne.
His family had been campaigning for a change in the law.
Eight-month-old Ryan was being kept alive by an air-driven pump device and his parents had moved to the North East to be with him.
He was waiting for a replacement heart from France or Italy, where the rules on transplants are different.
The Freeman Hospital said it would not comment on the death of a child.
A report, published in Archives of Disease in Childhood, says bringing UK rules into line with Europe, Australia and the US would transform care.
The Royal College of Paediatrics and Child Health is reviewing the science behind the guidelines and is due to report in the summer.