Meriden service marks WW1 cyclists' sacrifice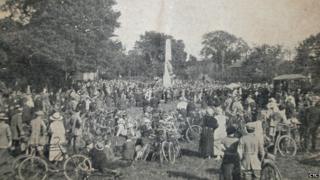 A service has been held to commemorate the part played by cyclists during World War One.
About 600 people attended the event, organised by cycling charity CTC, at a memorial in Meriden, West Midlands.
The Bishop of Warwick also unveiled a plaque for cyclists killed in action since 1945.
Set up in 1915, the Army Cyclist Corps played a key role during WW1 in scouting enemy positions and providing communications along the front line.
A memorial was unveiled in Meriden in 1921 by the CTC charity, attracting more than 10,000 cyclists from across the UK.
The service held on Sunday marked the 100th anniversary of the start of WW1 and was one of a series of events organised by CTC over the weekend.