Meriden woodchip fire treated as accidental by fire service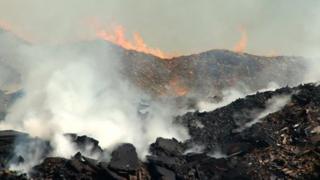 The fire service has said a blaze at a recycling plant in the West Midlands probably started by accident.
The fire at A&A Recycling Limited, in Meriden, broke out on Friday evening.
At its height, about 80 firefighters tackled the flames in a 50ft (15m) pile of wood chippings estimated to weigh about 6,000 tonnes.
On Monday, West Midlands Fire and Rescue said it could be another three days before the fire is put out.
Group commander Nigel Sowden said: "We are not treating it as suspicious, we are treating it as accidental at this stage".
He said fire crews had been able to save some of the stock by using machinery on the site to build fire breaks.
The fire service is working with the Environment Agency to make sure the water run-off does not pollute nearby water courses.
Cornets End Lane in Meriden was closed for much of Saturday but has since reopened.