Birmingham council pays overtime to clear rubbish backlog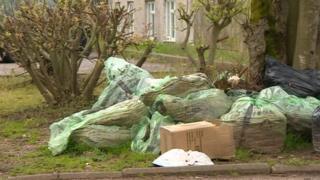 Refuse collectors in Birmingham are being paid overtime to pick up tonnes of green waste this weekend after a row over rubbish piling up on the streets.
A £35 charge was introduced for green waste collections in February.
Some residents have said they have not received bins, while others said waste had not been picked up.
The city council said a "one-off, targeted clear-up" would happen on Saturday and Sunday.
Local Liberal Democrat MP John Hemming has threatened court action against the council, claiming that fly-tipping has got worse since if the charge was introduced.
'Attracting dumping'
Both the Conservatives and Liberal Democrats have targeted what they call the "garden tax" as a potential vote winner in elections.
Both parties have pledged to scrap the £35 charge if they gain control.
The Labour-run authority, however, said the scheme was expected to bring in more than £2m of income by the end of the financial year, which would help to offset cuts to other services.
Councillor James McKay, responsible for waste services, said the extra clear-up on Saturday and Sunday would target problem areas where rubbish has been piling up, but said the council could not afford to abandon the charge all together.
He said: "We recognise we're in a transition period. There is in some areas garden waste in the streets, which has been attracting some other dumping."