Birmingham riot deaths: Officer criticises IPCC verdict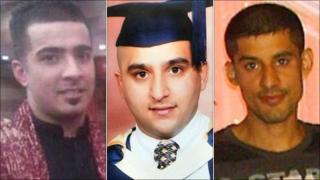 A detective who investigated the deaths of three Birmingham men during riots in 2011 has rejected a police watchdog's conclusion he acted recklessly.
The Independent Police Complaints Commission (IPCC) said Det Insp Khalid Kiyani would have faced a gross misconduct charge had he not retired.
Mr Kiyani dismissed the findings and described the report as "wholly inadequate".
He has backed calls for an independent public inquiry into the deaths.
"I totally reject the findings of the IPCC Report and maintain the account I have given as to my role in these events," he said.
"The report is simply the opinion of the investigating officer. It is wholly inadequate in the way the evidence has been collated, reviewed and presented.
"I retired from the police after 30 years of loyal and committed service. I am now unable to challenge the report's conclusions."
'Ensure public confidence'
Haroon Jahan, 20, and brothers Shazad Ali, 30, and Abdul Musavir, 31, died after being hit by a car in August 2011.
Eight men were cleared of their murder in 2012 and the trial heard witnesses were offered immunity from prosecution in return for statements.
The IPCC found Det Insp Kiyani was "reckless" in his conduct and said his actions were unauthorised.
Mr Kiyani added: "I fully support the position of others in the community and the Policing and Crime Commissioner for West Midlands Police, that only an independent public inquiry will ensure public confidence is maintained following the outcome of the trial.
"Such an inquiry should test and evaluate evidence from relevant witnesses and review the entire conduct of all the agencies involved".