BBC Academy, HR and communication teams moving to Birmingham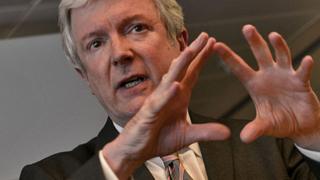 A total of 190 BBC workers will transfer to Birmingham by the end 2015, director general Tony Hall has announced.
The corporation is moving its training centre, BBC Academy, from London to the Mailbox as well as its core HR and internal communications teams.
Originally it was thought just 90 jobs would be transferred.
Mr Hall said it was "good news for the BBC and Birmingham" but union BECTU is concerned some workers could struggle.
"Birmingham is a great city, with a history of creativity and innovation," said Mr Hall.
"I can't think of a better place to base the BBC Academy."
He added: "The centre for BBC recruitment for the whole of the UK will also be based alongside the Academy, in one of the UK's most diverse cities."
BBC national factual programme-making was transferred from The Mailbox to Bristol in 2012, sparking protests from people concerned about the corporation's diminishing presence in the city.
About 600 people moved to the Mailbox from Pebble Mill in 2004, with 380 members of staff currently working there.
BECTU spokeswoman Helen Ryan said they had mixed feelings about the announcement.
"We have to be mindful that there are 190 workers in London who might not be able to up sticks and leave easily," she said.
She said the union would be consulting with members and lobbying to maximise redeployment where possible.