Bloxwich man arrested over ambulance theft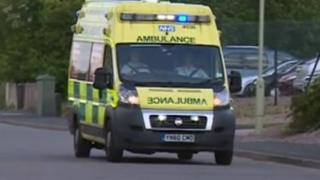 A man has been arrested on suspicion of assault and theft after an ambulance was stolen in the West Midlands.
Police said they were called to Bloxwich High Street, near Walsall, at around 15:00 BST after reports a patient had forced an ambulance crew from their vehicle.
West Midlands Police said the ambulance was driven "erratically" along Green Lane, making two U-turns, before they forced it to stop.
A Bloxwich man has been detained.