Staffordshire and Shropshire armed shop raids gang jailed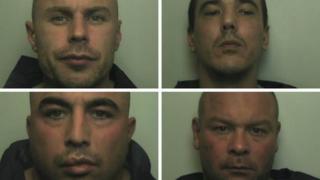 Four men have been jailed after a series of robberies in Staffordshire, the Black Country and Shropshire.
The gang threatened staff with axes and metal bars, stealing £100,000 of cigarettes, cash, scratch cards and, in one case, a BMW police said.
Craig Osmund-Smith, Graham Aulton and Alan Britton all pleaded guilty to conspiracy to commit robbery.
Stewart Ferguson pleaded not guilty to the charge but was convicted by a jury at Stafford Crown Court.
'Shocking and terrifying'
The court heard the raids took place in the early hours, from September to November last year, when staffing was minimal.
Staff often had their hands tied with cable ties or were handcuffed before being placed into small rooms.
In one raid at Spar, Windmill Bank, Wombourne, a worker suffered a heart attack.
Aulton, 33, of High Street, Wednesfield, and Ferguson, 35, of Talbot Lane, Millfields, Bilston, were both jailed for eight years, nine months.
Britton, 40, of Duke Street, Wolverhampton, and Osmund-Smith, 41, of Valley Road, Dudley, were jailed for seven years, seven months and six years, nine months, respectively.
Speaking after the sentences were handed down on Wednesday, Det Supt Paul Clews said: "I hope the result brings some form of relief to the numerous victims of these shocking and terrifying crimes that the offenders have been brought to justice."