HMP Birmingham TV glass attack prisoner detained indefinitely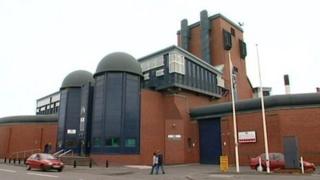 An inmate who used a shard of glass from a broken TV to attack several prison guards has been detained indefinitely.
Ahmed Sharif Jama Al-Sharif, 53, was handed a hospital order by judge Recorder Steve Evans at Birmingham Crown Court.
A trial in January heard he cut one officer's arm "to the bone" with glass from his cell's TV set.
He had denied three charges of wounding with intent and two of assault.
The court heard Sharif had attacked three members of staff at HMP Birmingham on 7 November 2012 after he smashed the TV set three days earlier.
He wrapped one fragment of glass - which was not removed from his cell - in green fabric and used it to slash at warders.
One - Robert Belcham - suffered nerve and tendon damage in the attack.
Sharif had claimed he acted in self-defence.