Dudley man critical after pub car park stabbing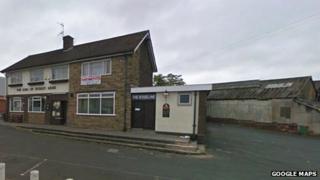 A 21-year-old man was stabbed on a pub car park in the early hours, leaving him in a critical condition.
He was found on a bench near The Earl of Dudley Arms, Dudley, West Midlands, and has had surgery for multiple wounds, including one to his heart.
Police were alerted at about 04:15 BST when he was brought to Russells Hall Hospital in the town by two friends.
A man from Hilltop, aged 21, and a 23-year-old from Brierley Hill, were held on suspicion of attempted murder.
Det Insp Warren Hines said: "At this stage, we're working on the theory that this was a fight which got out of hand as opposed to a random attack on a stranger.
"If this is the case, it is vitally important that the other person or people involved call me immediately so that they can put their side of the story to me."
The car park and the pub on Wellington Road were sealed off following the stabbing.