Walsall stabbings: One victim was mother of three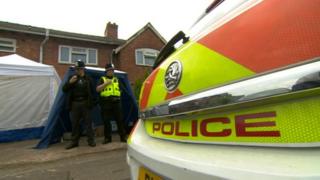 Three girls who were asleep in a house where two bodies were discovered were the daughters of the dead woman.
The 29-year-old woman and a man aged 32 - believed to be former partners - were found at Hollemeadow Avenue, Walsall, West Midlands, early on Saturday.
A 19-year-old man, who was at the house where the girls aged 11, eight and seven were sleeping, was earlier arrested on suspicion of murder.
He has now been released without charge.
Earlier police said they were "keeping an open mind" about what happened.
Both people were believed to have died as a result of knife injuries, the force said.
Forensic post-mortem examinations would be conducted on Sunday and the results were expected to be released on Monday, said police.
Officers were called to the house by the ambulance service in the early hours.
A weapon has been recovered from inside the property.
Earlier Det Insp Caroline Corfield said: "Two families have experienced a tragedy and three young girls have been robbed of a mother.
"Our thoughts remain with them today.
"We're keeping an open mind as to what took place inside the house and are exploring a number of possibilities."
The 19-year-old man, who has not been named by police, is understood to be known to the two people who died.
Det Insp Corfield said: "The man who will face no further action is fully supportive of our investigation.
"He has provided the team with invaluable information which has led us one step closer to uncovering the truth."
Earlier police said family liaison officers were supporting the families of those who died "during this difficult time" and formal identifications had not yet taken place.
Neighbour Natasha Pitt said: "(My) first reaction was obviously, I'm scared, because obviously I've got small children and it's literally on our doorstep.
"When you hear that there's children in the home as well, it's upsetting. You don't want to hear about things like that."
Patrols in the area had been stepped up to reassure worried people and to allow information to be passed to officers, the force said.