Swimming pool dyed gold to honour Wolverhampton Wanderers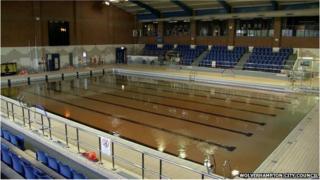 A swimming pool has been dyed gold in honour of the city's football team.
The council is throwing a pool party at Wolverhampton Central Baths to try to attract more visitors to the site, which was saved from closure in March.
The council said the water in the pool would be dyed "old gold" - the shade of Wolverhampton Wanderers' football shirts - for the day.
The team were crowned League One champions in April.
'Extremely proud'
A council representative said: "There will be lots of gold and black beach balls and other items in the water for people to enjoy."
He added the dye used on the water was non-toxic.
Peter Connelly, from the council's leisure department, said: "The council is extremely proud of Wolves' achievements this season and we wanted to put on a real family celebration event.
"We thought it would be really fun to dye the water."
The council had considered closing the pool but changed its mind following a 6,000-strong petition.