Birmingham 'Trojan Horse' schools: Ofsted reports 'need more work'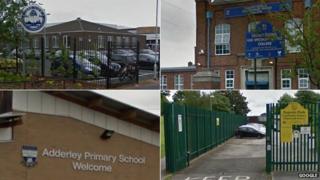 More work is needed on Ofsted reports into schools involved in the so-called Trojan Horse plot before publication, the chief inspector has said.
Ofsted originally carried out inspections at 18 schools in Birmingham involved in an alleged plot by Muslim hard-liners to seize control of them.
It said it had inspected a further three state primary schools in the city in the past week.
The 21 reports would be published at the beginning of June, Ofsted said.
A letter sent to local authorities last year claimed that a Muslim faction had sought to gain influence over schools and remove staff who were not sympathetic to their religious agenda.
There were accusations of gender segregation, the undermining of staff and the unfair treatment of non-Muslim pupils.
The Department for Education has ordered its own review into the claims and Birmingham City Council has launched an investigation into 25 schools.
Ofsted said it had carried out inspections at Heathfield Primary, Chilwell Croft Academy and Shaw Hill Primary since the Easter break.
Chief Inspector Sir Michael Wilshaw visited Birmingham last week to talk to officers who had carried out all 21 school inspections and review their evidence.
In a statement, Ofsted said that as a result of the visit he had "asked inspectors to undertake the additional evidence-gathering".
It said: "Given the circumstances surrounding these inspections, Sir Michael wants to ensure that inspectors have sufficient time to work through the detailed evidence in order to complete their inspection findings."