Wolverhampton Johnson brothers ordered to repay fraud cash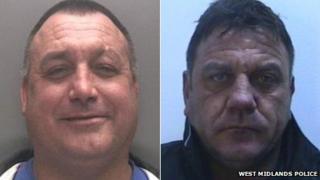 Two brothers who provided protection for a convicted conman have been ordered to repay nearly £340,000 under the Proceeds of Crime Act.
Anthony Johnson, 52, and brother Carl, 51, from Wolverhampton, were jailed in 2012 for their part in a £34m fraud.
At Birmingham Crown Court on Wednesday Anthony was told he must repay £220,216 while his brother was ordered to repay £118,925.
Both face a further two years in jail if they fail to pay.
The brothers provided protection for Solihull conman Thomas Scragg, who was jailed for 17 years for leading one of the UK's biggest ever tax frauds.
Police said Anthony Johnson was paid £918,360 by Scragg, while his brother gained £1,536,000, which they used to fund a "lavish lifestyle".
At the hearing West Midlands Police was given permission to auction off sporting memorabilia "worth thousands" seized from Carl Johnson.
Det Sgt Derek Tinsley said police had "taken action to ensure [the brothers were] never able to benefit from their criminality."
"We froze and managed their finances at the time of their arrest and then we started proceedings to try and recoup as much of the stolen money as possible, to put it back into the public purse," he added.