Middlesbrough fans guilty of tearing pages from the Koran during away match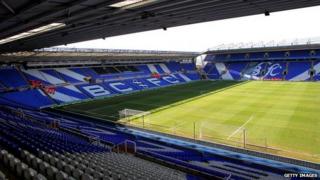 Two football supporters have been found guilty of ripping up the Koran during a match.
Middlesbrough supporters Gemma Parkin, 18, and Julie Phillips, 50, handed pages of the book to fellow fans to "shred" at a Birmingham City away game.
The women had denied the "racially-aggravated" offence.
Parkin, of Kimberley Drive, and Phillips, of Kenmore Road, were fined and ordered to pay costs at Birmingham Magistrates' Court.
'Making confetti'
Both said they had not realised the book they were destroying was the Koran.
Parkin said she had been handed the copy at a Birmingham market, while Phillips told the day-long trial she had been "making confetti" to throw during the Championship fixture.
But Birmingham City steward John Newbould told the court he witnessed several visiting Middlesbrough supporters chanting "England" as they tore up a copy of the Islamic holy book.
The court also heard Phillips, who had been drinking, informed a steward she was ripping up the Koran.
Passing sentence, chairman of the bench Gordon Sayers branded the offence "very unpleasant" and said there was "a degree of pre-planning involved".
'Abusive and insulting'
He added that a number of the 700 away fans had appeared to disapprove of the women's behaviour.
"Other away supporters seemed uncomfortable," he said.
"This behaviour was in a football stadium and was both abusive and insulting."
Magistrates fined Phillips £300 with £400 costs, while Parkin was fined £200 and ordered to pay £400 towards the cost of her trial.
The court chose not to impose a football banning order on the pair because they were not satisfied it would help prevent violence or disorder at future matches.
Parkin and Phillips had pleaded not guilty to causing harassment, alarm or distress during the fixture at Birmingham's St Andrew's ground on 7 December.
A third Middlesbrough supporter was fined £235 in March after he admitted the same offence.