'Wet boulevard' suggested for Birmingham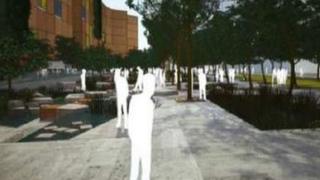 A so-called "wet boulevard" - a pedestrian zone with water features - has been proposed for Birmingham.
The proposed street, which would run from the Bullring shopping centre, towards the River Rea in Digbeth, is one of a number of suggested measures to regenerate the city's environment.
Were the measures carried out, a report suggests they could be worth more than £1bn to the city's economy.
The city council is carrying out "exploratory work" into the proposals.
'Significant flood risk'
The report, named The Ripple Effect, was commissioned by Defra's Technology Strategy Board in 2013 to look at the benefits of environmental regeneration.
It was compiled by Aecom, the company behind the Olympics site.
It said: "In the more urban areas, the Rea is hidden under bridges, behind buildings, and generally out of sight. It receives untreated surface water runoff from Birmingham's streets. The lack of focus and attention given to the river is noticeable."
Currently much of the River Rea flows through the city underground and has been given the Environment Agency's lowest rating for water quality.
The report said the river was the most significant source of river flood risk in Birmingham.
However, the report also identified "opportunities" in Birmingham, in areas such as Eastside, Digbeth and the Southern Gateway, to improve the river's quality.
It said the benefits of regenerating the city in a "water sensitive" way would be worth around £1.05 billion over 40 years, as a result of improved water quality and supply, reduced flood risk and property values.
Birmingham City Council said it was working with Severn Trent and the Environment Agency to, "explore how the River Rea can form part of the regeneration of Eastside and other areas of the city it runs through, including Digbeth and Highgate".
It added the work was "at an early stage".