Allotment garden dedicated to WW1 soldier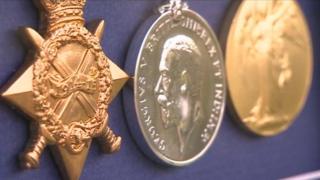 Allotment holders who discovered a World War One soldier's medal in a plot on the site are opening a memorial garden in his honour.
Pte William Richards, of the King's Shropshire Light Infantry, was killed during the battle of Ypres in 1917.
In 2007, a plot holder at Thornbridge Allotments, in Birmingham, dug up one of Pte Richards' medals.
The allotment holders are trying to trace the soldier's family. They are opening a memorial garden on Saturday.
'It's a mystery'
The community garden will be called the Private William Richards Memorial Garden.
Andrew Poyner, chair of the Thornbridge Allotments Society, said the garden included flowers and water features.
"It's a traditional garden and a very peaceful place to go and contemplate," he said.
He added, that he hoped to dedicate a memorial stone to Pte Richards in the summer.
Mr Poyner said he hoped the publicity surrounding the recovered British Service Medal would lead any living relatives of Pte Richards to come forward.
"I have spent a long time trying to trace them," he said. "William was born in Llanelly and moved to the Rhondda Valley at some stage. According to the 1901 census, he lived with his parents John and Margaret and his older sister Rachel.
"If he was born in Wales, why has his medal ended up on an allotment site in Birmingham? It's a mystery."
Mr Poyner has collected copies of two other medals posthumously awarded to Pte Richards: the Victory Medal and the Star.
"My mission is to establish if there is any living relation to whom we can return the medal and to find out how the medal came to be where it was found," he said.
"The medal had to have been awarded to a living relative at some time after World War One. Why it's been discarded since then, I don't know."