Stained glass windows saved from derelict Darlaston church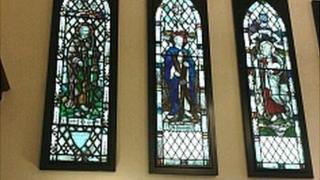 Stained glass windows have been saved from a derelict church and installed in a town hall in the West Midlands.
The five windows from St Andrew's Church in Darlaston, which closed in 2009, are dedicated to local soldiers who died in World War One.
More than £30,000 has been donated by Walsall council to get the five windows installed in frames and put up at the town hall in Victoria Road.
The windows will be dedicated at a ceremony in the hall on Sunday.
The five windows, which depict the Good Shepherd, St Bartholomew, St Andrew, St Chad and St George, date back to 1919.
Anne Bond, who was part of a group that campaigned to get the windows moved, said: "The church was bought by developers in 2013 and we were worried the windows would be lost forever.
"They are beautiful windows and we wanted to preserve them so that the community could remember our fallen soldiers."