'Trojan Horse' probe schools named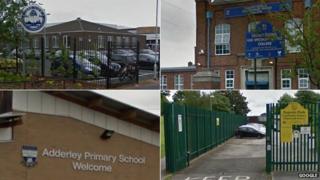 A list of the schools Ofsted has been sent in to inspect over an alleged plot by Muslim hard-liners to seize control of governing bodies has been published.
Birmingham City Council, which is carrying out an inquiry into the allegations, has made public a list of 18 schools Ofsted has inspected.
Council leader Sir Albert Bore said Ofsted would publish its reports in "the first or second week of May".
He said the council has not yet seen the draft version of the reports.
Sir Albert went on to criticise the apparent leaking of an Education Funding Agency report into three city academies to a national newspaper at the weekend.
He said the government Cabinet Office was investigating the source.
The Trojan Horse allegations first came to light earlier this year, contained in an anonymous and unsigned letter.
In all, 25 schools are being investigated over claims that male and female pupils were segregated, sex education banned and in one case that the al Qaida-linked Muslim cleric Anwar al-Awlaki was praised in an assembly. The preacher was killed by a US drone strike in Yemen in 2011.
On Saturday, The Daily Telegraph reported that six of the schools implicated in the allegations faced being placed in special measures.
Sir Albert said: "That such important and sensitive information has been leaked at this time is wholly reprehensible and completely unacceptable."
He said one school had inaccurately been included in press articles when it was unconnected with the current inquiries.
The authority also announced from Monday a hotline would be set up for whistleblowers to come forward with specific concerns.
It has also made public the list of 18 schools following what it called "misinformation" in press coverage.
Council chief executive Mark Rogers said he was in "no position" to identify the remaining seven schools because inquiries were still "in the early stages".
The council's investigation is being headed by former head teacher Ian Kershaw, who is sifting through about 200 concerns raised since Trojan Horse emerged.
The DfE has appointed its own education commissioner, the former head of the Metropolitan Police's counter-terrorism unit Peter Clarke.
Mr Rogers said it was the council understanding that Sir Michael Wilshaw, the head of Ofsted, had been overseeing its inquiry for some time.
The council also revealed the make-up of its Trojan Horse review group.
This includes Kamal Hanif - the headteacher of Waverley Primary School, Labour MP for Hodge Hill Liam Byrne, the Bishop of Birmingham David Urquhart and an as yet unnamed senior Muslim community member.