Surgeon fired from Queen Elizabeth Hospital for 'inaccurate' data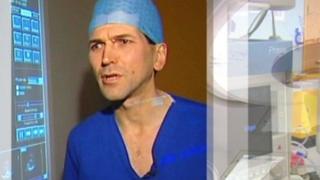 A heart surgeon in Birmingham has been sacked after allegations he inaccurately reported medical data.
Ian Wilson was dismissed from Queen Elizabeth Hospital after an internal investigation suggested he was under-reporting the time patients spent on a heart-lung bypass machine.
Studies have shown there is a higher risk of complications, or even death, for patients who spend longer on these machines.
Mr Wilson declined to comment.
Queen Elizabeth Hospital confirmed the dismissal but said it could not comment further due to a pending employment tribunal.
Private practice
A series of deaths triggered the routine inquiry.
But Mr Wilson's dismissal is understood to relate to concerns about the data and not his ability as a surgeon.
Some restrictions have been placed on him by the General Medical Council (GMC) pending an investigation.
He is not allowed to perform any private practice and cannot apply for a job abroad without telling the GMC.
He can also only work in the NHS under supervision, pending the investigation.
David Loughton, chief executive of New Cross Hospital in Wolverhampton, confirmed Mr Wilson was being retrained in the cardiac unit in line with the GMC's recommendations.
'No concerns'
He said the three months of supervised work would help train him to apply for a job.
"I have no knowledge of whatever conduct issues there were with his previous employment," he said.
"I have discussed this with a number of people in this organisation and we don't have any concerns about his clinical practice."
Mr Loughton said if the training worked, he would be willing to offer Mr Wilson a job.
Mr Wilson is currently an executive member of the society of cardiothoracic surgeons of Great Britain and Ireland.