Birmingham mosque's Dr Muhammad Naseem dies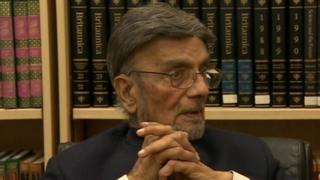 The 90-year-old chairman of Birmingham Central Mosque has died.
Dr Muhammad Naseem died at Queen Elizabeth Hospital in Birmingham on Tuesday morning, the mosque reported on its website.
Tributes have paid on social media. Funeral arrangements have yet to be confirmed, the mosque said.
Dr Naseem was a leading figure among Muslims for many years in Birmingham. Thousands of Muslims attend the mosque from across the West Midlands.
In 2005, Labour's Perry Bar MP Khalid Mahmood called on him to resign after he said the government could not be trusted.
The pair previously clashed when Dr Naseem stood for the Respect-Unity Coalition - which opposed the then Labour government's involvement in Iraq - in Mr Mahmood's constituency at the 2005 election.