Birmingham 'Islam plot' probe appointment 'a disaster'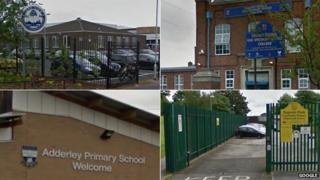 A school governor has said it is "a disaster for community cohesion" that the former national head of counter terrorism has been appointed to lead an inquiry into 25 Birmingham schools.
The Department for Education (DfE) has appointed Peter Clarke to review evidence over allegations of a hard-line Islamist takeover plot.
Regents Park governor Father Oliver Coss has criticised the appointment.
The DfE said Mr Clarke was "exactly the right appointment".
The so-called Operation Trojan Horse letter, which came to light in March, purported to outline a template on how schools could be pushed into adopting more Islamic cultures.
'Very upset'
Birmingham City Council said it had more than 200 reports over its inquiry.
Writing on his blog, Father Coss, a vicar in Small Heath in Birmingham, said the appointment would be "a disaster for community cohesion in East Birmingham".
On Wednesday, he told BBC Radio 4's Today programme the claims had not been substantiated.
"I think I would want him (Mr Clarke) to know that carrying his former counter terrorism brief into a neighbourhood like Small Heath does have inherent risks and if he's going to continue doing this, he does need to tread carefully," he said.
Apparently written by someone in Birmingham to a contact in Bradford last year, the undated and unsigned Trojan Horse document proposed a co-ordinated effort of installing governors and replacing staff - including head teachers - who were unsympathetic to Muslim doctrines.
It claimed the tactics had been successfully deployed at several schools in Birmingham.
When Mr Clarke's appointment was announced on Tuesday, West Midlands Police criticised the decision.
Chief Constable Chris Sims said Mr Clarke had "many qualities" but people would "inevitably draw unwarranted conclusions from his former role".
The DfE said Mr Clarke "has long experience of leading sensitive investigations" and "has earned a reputation for thoroughness, integrity and independence".