Queen Elizabeth 'liver brand' surgeon returns to work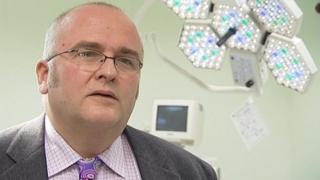 A surgeon who allegedly branded his initials into a patient's liver has been allowed to return to work.
Simon Bramhall, who works at the Queen Elizabeth Hospital in Birmingham, still faces a full disciplinary hearing.
The surgeon was suspended before Christmas following the allegation that he had marked a patient.
The BBC understands Mr Bramhall is currently undertaking out-patient clinics as part of a phased return to work.
'Sketch out area'
Mr Bramhall, 48, has declined to comment during the investigation. He is the subject of an internal investigation by the hospital and still faces a disciplinary hearing.
Liver surgeons use an argon beam to stop livers bleeding, but can also use it to burn the surface of the liver to sketch out the area of an operation.
A highly-placed source said that it was not harmful and the marks would normally disappear.
It appears that the liver in question was otherwise damaged and as a result did not heal itself in the normal manner.
Mr Bramhall is a highly-regarded liver, spleen and pancreatic surgeon who has worked in the Queen Elizabeth liver unit for 12 years.
Part of the allegation is that he has signed his initials more than once over that period of time.
Mr Bramhall came to public attention in 2010 after transplanting a liver into a patient that had been saved from a burning aircraft.
University Hospitals Birmingham Foundation Trust, which runs the Queen Elizabeth Hospital, said the investigation into Mr Bramhall's conduct was ongoing.