Performances to mark Redditch's 50th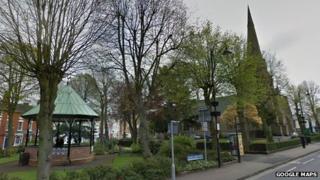 A series of performances about life in Redditch are being held to mark the town's 50th anniversary since it was designated a new town.
Redditch was nominated a new town by the government in 1964.
In March, David Cameron sent double congratulations to the town - one to mark its half century and for the 50th birthday of its MP, Karen Lumley.
The readings will be based on the testimonials of people who lived in and moved to Redditch during World War Two.
They worked in factories such as the HDA, Royal Enfield and BSA but stayed through the building of the new town.
Housing shortage
Alexa Williams, town centre co-ordinator, said: "So much has changed in Redditch since 1939 and what better way to learn about these changes than to hear the testimonials of the people who experienced them."
The event will be held at Forge Mill Needle Museum between 11:30 and 14:00 BST.
The area was one of several designated a new town which were planned to alleviate housing shortages following the war.
Much of the area was farmland until the 1960s when it was developed with separate residential, industrial and recreational areas being linked by a graded road network.
Many roads and estates take their name from the original farms in the area.