Birmingham library ladder shortage leaves books unreachable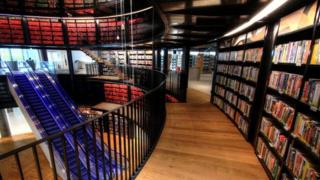 Thousands of books at Birmingham's new £189m public library cannot be borrowed because special ladders to reach them are yet to be delivered.
Library officials told the Birmingham Post it was a "frustrating" situation that should be resolved by the summer.
A spokesman said the books were low-use, academic titles that were borrowed "infrequently".
The library, thought to be Europe's largest, opened in September.
'Bad planning'
Director Brian Gambles said: "We had planned to introduce this service in the autumn, after the initial post-opening rush had settled a little.
"But because we're still awaiting delivery of equipment to enable staff to retrieve items from the storage stacks safely, we have had to delay this service."
The Health and Safety Executive (HSE) said reports staff had been prevented from accessing books on health and safety grounds were inaccurate.
Samantha Peace, HSE director for Wales, Midlands and the South West, said "failure to purchase appropriate equipment" was the real cause.
"Health and safety is often trotted out as an excuse for other misgivings and failings," she said.
"We feel it has been used on this occasion to mask bad planning on the authority's part and the people of Birmingham are being misled."
The library houses about one million books, a television archive belonging to the British Film Institute (BFI), and the second-largest repository of Shakespeare's works in the world.