Would the West Midlands welcome a Greater Birmingham?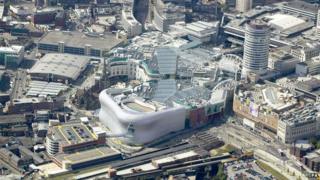 It has been touted as a way for the West Midlands to compete with London and vie for international investment. But will rebranding large parts of the region as "Greater Birmingham" make a difference?
Business leaders have argued the label will boost the area's international profile, while some politicians have gone a step further and called for a region-wide authority.
They say Birmingham should follow the lead of areas like West Yorkshire, which recently formed a single body, to co-ordinate economic recovery.
If adopted, it could mean areas like the Black Country and Solihull, which are currently viewed separately from Birmingham, fall under the same umbrella.
'Nightmare' authority
But could it work? What would you call a single West Midlands authority? Send us your thoughts at newsonline.westmidlands@bbc.co.uk
John Lewis boss Andy Street is head of the Greater Birmingham and Solihull Local Enterprise Partnership (GBSLEP), a collection of nine local councils and businesses aiming to raise the region's profile.
He has not called for a new authority but believes a collective regional identity would help the West Midlands to market itself to the rest of the world.
He said: "If you're a businessman selling in China you have no idea what the West Midlands is.
"Chinese businessmen know what Birmingham is, it's got an image, a reputation and I absolutely believe we should lead on that brand."
Birmingham City Council leader Sir Albert Bore, who sits on the GBSLEP, believes a combined body is the way forward for local government.
He re-stated his calls for closer working between councils in his 2014 budget statement, and has said local government will struggle to deliver services in its current form.
But there is scepticism as to whether 'Greater Birmingham' would work.
Catherine Staite, director of University of Birmingham's institute of local government studies, warned the prospect of creating a single West Midlands authority would be a "nightmare".
She said the size of Birmingham's single "massive" council, surrounded by much smaller unitary bodies, made it problematic to join them all together in the same way Manchester did 40 years ago.
Ms Staite said that unlike councils in Greater Manchester, which have spent four decades developing a "relationship of trust", there was more discord among Midlands authorities.
"There is a deep-seated mistrust of Birmingham on the part of smaller unitaries trying not to be swallowed up and swamped," she said.
"They want to keep a special distinctive air about them."
As well as practical concerns over restructuring, proposals to create a single authority have not been greeted well by all residents in the surrounding areas.
Some people in the Black Country area said they would not want to be classed as part of Birmingham.
Claire Mansell, owner of a cake shop in Wednesbury, said the area - which consists of the Walsall, Sandwell and Dudley boroughs and includes parts of Wolverhampton - had a long history of distancing itself from Birmingham.
"I think it would get a lot of resistance, especially from older people who have lived here all their lives," she said.
"I wouldn't be happy to call myself a Brummie - people from Birmingham have a reputation for being arrogant around here.
"They should leave it alone, it's been the Black Country for too long to try and change it."
The village of Knowle, in the Solihull district, was part of Warwickshire for centuries before it was brought under the authority of the short-lived West Midlands County Council (WMCC), formed in 1974
Butcher Peter Lyons remembers villagers were not impressed with the boundary change then, and said the idea of a 'Greater Birmingham' would be similarly unpopular today.
"I think the general reaction here is that it should retain its identity as part of Solihull," he said.
"I like Birmingham and I'm proud of the Midlands but we have our own community here which we are very proud of."
'Wolverhampton girl'
Mrs Staite said instead of re-labelling or "unnecessarily" changing where people live, more local authorities should build on existing projects which have seen them work together.
"There are already lots of examples where West Midlands councils are running shared services," she said.
"I think this vision of a Greater Birmingham would absorb a huge amount of energy that could be put into doing things more efficiently.
"Restructuring takes twice as long as you think it will and is a departure from the task at hand."
The GBSLEP and Centro, which co-ordinates public transport across the West Midlands, are examples of cross-boundary collaboration, although the Black Country has its own separate LEP.
Albert Bore has called for the two LEPs - which traditionally bid against each other - to work together for the benefit of the region's economy.
In Wolverhampton Bethan Read, an assistant shop manager, said she supported efforts to boost businesses but did not want her home city to lose its individual identity.
"I've always thought of myself as a Wolverhampton girl, where you're from is quite an important part of who you are.
"I think you need to have a mix of identities and areas as well, so I'd prefer to keep it separate."
For Catherine Staite, the answer lies in improving the way current councils go about their business rather than changing their identity.
"People associate themselves with those towns or cities and not some amorphous 'West Midlands'," she said.
"I think local councils can do something good without spending a lot of money or causing a lot of bother.
"That will be achieved more easily with innovative ways of doing things rather than going through the process of creating a new authority."