Hassan Mahmood stabbing: Killer jailed for 16 years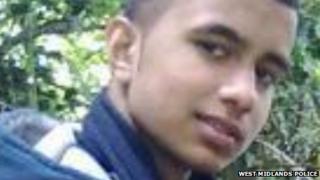 A teenager who stabbed a schoolboy in a park has been jailed for a minimum of 16 years.
Hassan Mahmood had gone to Oaklands Park, in Birmingham, expecting a fist-fight with the 17-year-old but he produced a knife, police said.
The 15-year-old died in hospital from a single stab wound to the back.
Birmingham Crown Court heard the 17-year-old, who cannot be named, admitted stabbing Hassan but claimed he did not intend to kill him.
He was found guilty of murder in January.
'Bragged' about killing
Hassan was one of five people fatally stabbed in the city last year.
Police figures show that in 2012-13 there were 1,615 knife-related incidents in the city, although police said over the past six years knife crime had fallen by 63% across the force area.
Speaking after the verdict earlier this year, West Midlands Police's Det Insp Warren Hines said: "Hassan went to the park that day expecting a fist-fight with another teenager to settle their differences, but by arming himself with a knife the defendant knowingly raised the stakes and it ended in a young lad losing his life."
He said said the 17-year-old showed a lack of remorse about the murder.
"He seemingly relished the opportunity to brag about what he'd done after he was arrested and told officers he expected to be released without charge because they wouldn't be able to find the murder weapon."