West Midlands and Staffordshire fire services to share 999 calls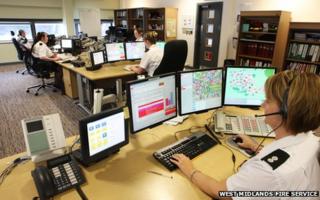 Two fire brigades facing budget cuts will handle 999 calls from a shared control room.
West Midlands and Staffordshire fire and rescue services are running the merged service from their base in Vauxhall Road, Birmingham, from Monday.
Staffordshire authority chairman Len Bloomer said the new service would bring "real improvements".
But the Staffordshire Fire Brigades Union said the move was a "mistake" for their region.
'Wrong decision'
Under the new arrangement, responses to 999 calls for both counties will be managed from Birmingham.
About 70,000 calls - including home fire safety queries and bookings for safety inspections - will be taken each year, the services said.
John Edwards, chair of the West Midlands authority, said the collaboration between the two forces would provide a "new level of service for all local residents".
But Barry Downey, Staffordshire branch secretary of the Fire Brigades Union, said the group felt the move was the "wrong decision".
Mr Downey said some control room staff from the county had taken voluntary redundancy and would not transfer to the new location.
"We are losing a large amount of experience and losing all the local knowledge those staff bring," he said.
"There is a huge dependence on computerised mobilisation technology and expectation that it will always work.
"We feel shared control is a mistake for Staffordshire Fire and Rescue Service which could have been avoided."
Mr Downey added he was "sure our members will make the new control room work".
Of 20 control room workers in Staffordshire, seven will take voluntary redundancy, seven have transferred to shared control and six have moved into different roles.
A West Midlands Fire Service spokesman said the services expected to save £1.5m by having the shared control.
He said the project pre-dated current financial cuts and the government provided £3.6m dedicated funding for it.