Former Birmingham bishop Cardinal Vincent Nichols returns to city for Mass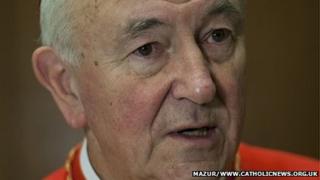 The former Archbishop of Birmingham, Cardinal Vincent Nichols, has returned to the city for a Mass to celebrate becoming a cardinal.
Archbishop of Westminster Vincent Nichols, 68, was created a cardinal by Pope Francis in the first such appointments of his papacy in February.
The Mass will be celebrated at St Chad's Cathedral.
Cardinals are the most senior clergymen in the Roman Catholic Church below the Pope.
'Freedom of the house'
Cardinal Nichols said he was "delighted" to be back in the city.
He studied for the priesthood in Rome from 1963 to 1970 and was ordained in 1969.
In 2000 he was appointed Archbishop of Birmingham.
Pope Francis elevated him to the rank of Cardinal in St Peter's Basilica on 22 February.
The cardinal said: "One of the memories that will always stay in my mind is entering into the basilica, which is a magnificent place, and finding I could just wander anywhere. I had the freedom of the house."
Cardinal Nichols is one of 19 new cardinals and will be eligible to elect future popes until he reaches the age of 80.