Joshua Ribera murder: Tackling Birmingham knife crime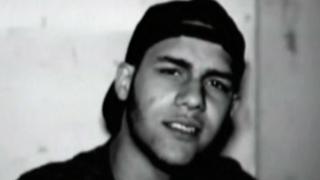 Joshua Ribera, Christina Edkins and Kyle Sheehan were just ordinary teenagers going about their business on the day they died.
Sports-loving Christina, 16, was sitting on a bus on her way to school in Halesowen, in March last year, when she was stabbed in the chest in a random attack.
Her killer, Phillip Simelane, from Walsall, was detained indefinitely under the Mental Health Act.
Kyle, also 16, was at a party in Bartley Green in September 2012.
The teenager who, his family say, was "known as a peacemaker", was stabbed in the leg and died later in hospital. Police have yet to press charges.
Almost a year later Joshua, 18, a talented rapper known as Depzman, was attending an event to commemorate Kyle - a friend of his - when he was stabbed to death.
Another 18-year-old, Armani Mitchell, has been found guilty of his murder.
The deaths of three such promising young people - and several other apparently unprovoked stabbings in the city - prompted Police and Crime Commissioner Bob Jones to announce a knife surrender which he dedicated to the memory of Joshua.
But is a surrender enough to combat the perception that knife attacks in the city are getting out of hand?
Speaking in October, Kyle's mother Hayley Sheehan said the city's parents, "have to do something to stop these kids killing each other".
"Look at the consequences of what's happened," she said.
"My son's gone, his friend's gone, all the other kids who have been killed by knives have gone.
"Their mothers are in the same pain I'm going through now. No mother should have to bury their child."
Yet, according to Joshua's mother, Alison Cope, that kind of loving parental guidance may not exist in such cases.
"I could sit here and say, 'Don't carry a knife'," she said in November. "Who am I to tell anybody? If [kids] haven't been taught respect and shown love, they're not going to listen to me."
According to figures released by police, knife crime in Birmingham dropped by 25% between April 2011 and 2012.
Police figures showed that in 2012-13 there were 1,615 knife-related incidents in the city, although police said over the past six years knife crime had fallen by 63% across the force area.
West Midlands Police is positive about the ongoing surrender, which they say they hope will run beyond June.
And Derrick Campbell, a former government advisor on knife crime, said Birmingham's knife crime problems are no worse than those of other big, inner-city areas.
However, Dr Campbell, who founded and chaired the group Birmingham Reducing Gang Violence, said the knife surrender alone would not work.
"Anything that goes towards addressing the problem is good but knife surrenders don't address the real issue," he said.
"You don't get criminals giving up their weapons."
In Dr Campbell's view, the best way for authorities to tackle knife crime is to increase education among those communities at risk from the problem.
"We need to target those people who are vulnerable and also get communities to realise there are very strong deterrents out there for those who carry knives," he said.
"But you can never truly get rid of knife crime."
The families of some of those who have died say they hope the lives of their loved ones can form part of that education.
Ms Cope is hopeful the lyrics in the songs of her son Joshua - a talented rap artist with a number one hit on iTunes - will inspire young people at risk of being caught up in such activity to picture a life beyond crime.
"You can see strong, positive messages in Joshua's lyrics," she said. She added she hoped her son's memory would help inspire people in the same way his music had.