Freshway Chilled Foods: 'Shock' at sandwich firm job loss plan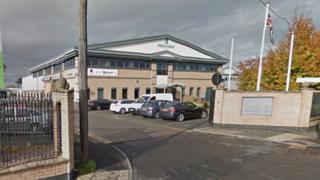 Plans to close a sandwich company in Wolverhampton would mean the loss of 208 jobs, a company has said.
Tulip Ltd said it was entering formal consultation with its workforce over plans to close its Freshway Chilled Foods business on the Boundary Industrial Estate.
The company said the decision followed an unsuccessful tender to renew a contract they had had for 18 years.
Unions said the announcement had come as a "big shock" to staff.
'Great regret'
The company said it had been supplying sandwiches to The Foodservice Centre Ltd for 18 years but the current contract was due to end in June.
A tender to retain the "core" business had failed.
Kirsty Wilkins, Tulip Ltd's group HR director, said the loss of the business would result in a 50% reduction in the site's turnover, making it economically unsustainable to maintain the current operation.
"It is with great regret Tulip Ltd announces formal consultation over a proposal to close Freshway Chilled Foods," she said.
"While we continue to explore ways in which we may be able to secure a future for the business, we cannot see a viable alternative to closure at this point."
She added "a number of options" were being discussed as part of the consultation process, including the possible redeployment of employees into roles at other Tulip sites.
The company said it would speak to employees and union representatives during the 45-day consultation period.
Charles McLaren, from the Union of Shop, Distributive and Allied Workers (Usdaw) said: "The loss of a major order which threatens the future of the site has come as a big shock to the staff.
"I have met with management today to look at what can be done to save jobs and keep people in work.
"We will continue to talk with Tulip throughout the consultation period."