Plans to save Wolverhampton's Central Baths put forward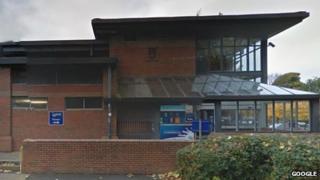 Wolverhampton's Central Baths could be saved by commercialising its services to pay for itself, council leaders say.
The council, which is aiming to cut £123m over the next five years, said the site and two other leisure centres were subsidised using about £2m a year.
Proposals include boosting marketing and holding more swimming lessons.
The plans are due to go before the city council's cabinet on Wednesday evening. A petition to save the Central Baths has attracted about 6,000 signatures.
The option of closing the swimming pool was no longer on the table, the Labour-run authority said.
However, it added the subsidy provided to the Central Baths, Aldersley Leisure Village and Bert Williams Leisure Centre in Bilston was "no longer affordable".
The council said advice from Sport England and the Amateur Swimming Association confirmed its belief the three centres had "the potential to generate substantially more income".
It added facilities at the centres would be "on par with those in the private sector".
Plans include a new layout for reception areas, offering swimming lessons for children for 50 weeks a year, not the current 39, and refurbishing changing rooms at the Central Baths.
The council said a new computerised system would make it simple for customers to book, while one telephone number for the centres would ensure all calls are answered by the authority's customer service team.