Help Harry brain tumour charity gives £72,000 for research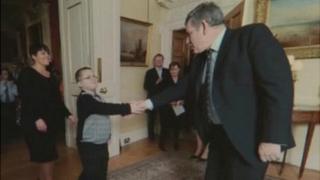 The Birmingham charity Help Harry Help Others is giving £72,000 for research into brain tumours.
The grant will sponsor a student's three-year research into the conditions which affected the charity's founder, Harry Moseley.
Harry, from Sheldon, raised more than £500,000 from 2009 until his death in October 2011, aged 11.
The funded research will be supported jointly by the University of Birmingham and Birmingham Children's Hospital.
Last year the charity also contributed towards the £200,000 refurbishment of Acorns Children's Hospice and gave £103,000 to Birmingham St Mary's Hospice.
Georgie Moseley, Harry's mother and chair of the charity, said: "We will always look at funding research wherever we can.
"If we don't fund vital research unfortunately more people will die of cancer."
She said the charity has raised about £315,000 in the past year.