ELO's Jeff Lynne returns to Birmingham for star honour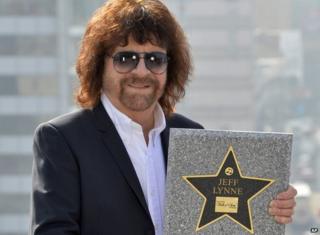 The frontman of the Electric Light Orchestra has been awarded a place on Birmingham's Walk of Stars.
Musician Jeff Lynne received the award in a ceremony at the Library of Birmingham.
Lynne grew up in the Shard End area of Birmingham, and found international fame with ELO before going on to form The Travelling Wilburys.
He said he was "shocked" people had come from all over the world for the event.
"I didn't think people would come from Shard End even. It's a wonderful thing, I'm very pleased, thrilled actually."
Lynne will also receive a star on the Hollywood Walk of Fame later this year but said he was "thrilled to bits" to be honoured by his home city.
"It's fantastic... a hometown thing is always very important," he said.
ELO have sold more than 50 million records worldwide.
'A genius'
Outside the library fans expressed gratitude that Lynne, who now lives in the United States, had returned to the city.
Glenn Goodman, 54, from Erdington, and his brother Peter, 43, from London, both booked the day off work to try to see their idol. Their sister Linda also made the trip, describing the family as "enormous fans".
"He's so not rock and roll, he has no ego," said Mr Goodman.
"I feel like he's my best friend and I've never met him."
Ross Muller, 67, waited outside the library with his wife, Linda. He said he had been a fan of Lynne since 1967 and owned "everything he's done".
"He's a genius. If you're feeling a bit down, you put one of his songs on and you feel better afterwards," he said.
"I know he lives in Los Angeles now, but he's still a Brummie."
Lynne was recently awarded an honorary doctorate from Birmingham City University for services to music.